What happens when you donate a car to charity?
In simplest terms, your car is converted to cash for your favorite charity. At Cars2Charities, we improve virtually every vehicle – such as how it looks, and how it runs – to maximize the value of your gift. Not all vehicle donation programs are the same. Our approach results in the highest tax deduction for you.
Here's what makes us different:
Other vehicle donation programs just auction your vehicle when you donate it. That means that it's taken to auction and sold, often for pennies on the dollar to a wholesaler who is looking to earn a profit. For them, this is a quick and cheap solution – but it does not serve you or your charity's best interest. At Cars2Charities, we believe there is a better way!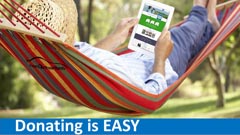 With our extensive network built on 35 years in the vehicle industry -- and our superior reputation with buyers – we cut out the middle-man and get you better outcomes. Since we improve how most vehicles look and/or run, we accomplish two things: it enables us to get the maximum amount possible for your vehicle, and it allows individuals who truly need a vehicle the opportunity of purchasing one they can afford.
However, if your car is not running or if it needs major repair, don't let that stop you from donating. We accept vehicles in any condition. If we examine your automobile and find that it needs reasonable repairs or other improvements, we will make them. Only vehicles that are truly beyond repair are sold for parts. No matter what we do with the vehicle, however, we promise to get you the biggest tax deduction possible and to benefit your chosen charity to the greatest extent possible.